Look no further for the lotions and moisturizers that will make your skin soft and fragrant--no greasy feel--just smooth-to-touch skin that you will love living in.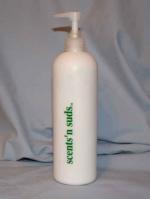 Vitamin A, D, & E Moisturizer
$20.00
An extra rich, cream in a bottle. This moisturizer is fortified with lecithin and Vitamins A, D, & E. Our most popular lotion. Best when used after bath. A CUSTOM SCENTABLE PRODUCT. 16 ounces.